I just wanted to thank my good friend over at
Bee and Rose
for my new snazy award.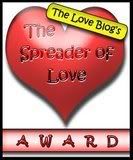 The Spreader of Love Award.
Oh I feel so lucky to have such wonderful bloggy buddies!
So I feel the need to pass it along to one of my first bloggy friends. Alexis over at
Runny Away? I'll Help You Pack
. She was one of the first blogs that was Saucy over at SITS (when I joined) and I checked her out. I then became a devoted follower and we've been chatting it up ever since! She actually lives pretty close to me too!
So Travis and I got the yacht on saturday. Happy Valentines to us!
Whoo Rah
!
Oh it was a beautiful ride from North Seattle to Gig Harbor. I will post pictures and an update here very soon! I also have what I made Travis for Valentines day!
Can we say
oooo
!
Oh and Thanks to all of you who
stuck
around during my Saucy week! I hope I got back to you all!
And I got
11
new followers! Wow! I hope I can keep you all entertained!
I feel nervous....